About
Delta Innovative
Services, Inc.
Delta Innovative Services is proud to be the premier commercial roofing contractor in our region. We are dedicated to quality, responsive service and safety. We build and repair commercial and industrial roofs on the schools, hospitals, government buildings, retail businesses and factories that support our community. Our dedication to making sure your project is done to perfection. If it's not done right, the job is not done.
Roof Building Experts
We specialize in all types of commercial and industrial roofing projects in Kansas City.
We are experts at building roofs. We specialize in commercial roofing and industrial roofing projects in Kansas City, Kansas, Missouri, and Nationwide. We began our business with the belief that doing more for every customer would set us apart. Our corporate office is located in Kansas City, KS, and have over 200 employees in a company owned 85,000 SF facility.
Services
Kansas City Commercial Roofing Service
500,000
Delta averages 500,000 man hours per year
200+
Customers and 10,000 squares per year
2200
Repairs completed in 2020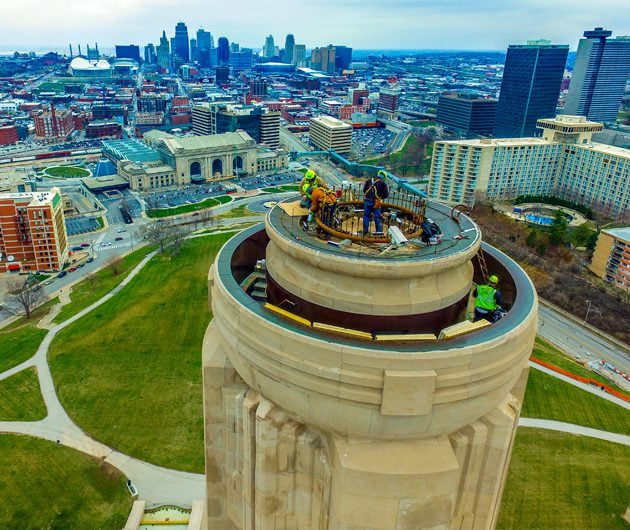 Why Choose
Delta Services?
We can do projects that most can't
250 years of combined experience in commercial roof contracting and management
Roofing options for all roof systems – Metal, Modified Bitumen, BUR, TPO/PVC, EPDM, and Composite.
Roofing solutions for commercial, retail, healthcare, government, and industrial projects.
Experience in all types of roofing, repair, and decking options and certified by most all major roofing and waterproofing manufacturers.
In house architectural metal and wall panel manufacturing and construction.
Company-employed fully staffed union-certified roof technicians.
85 K S.F company-owned facility and company-owned sky lifts, disposal dumpsters, cranes, kettles, trucks, and more.
Instantly Connect With A
Commercial Roofing Contractor
In KC
Testimonial
What Our Clients Says
I've had many opportunities to work with Delta Innovative Services, on projects ranging from small repairs, to full roof replacements, to new construction roofing projects. Each one has been handled professionally and with our combined best interest in mind. They have the resources and expertise to handle our needs.
Kansas City Public SchoolsForeman
It is obvious that Delta Innovative Services is highly committed to its Safety Training. They have ensured that their estimators and workers receive proper training which matches CertainTeed's strict requirements.
CertainTeed CorporationEnvironmental/Facilities Manager
I would recommend Delta Innovative Services for any project. Over the past fifteen years I have worked with Delta on a number of projects. I have found them to be reliable, responsive, competitive, fair, and quality-oriented. They have proven to be able to perform on large scope and smaller projects.
2Point Construction
Delta Innovative Services has been an excellent partner, especially in the area of customer service and roof construction. Their leadership and management skills have been an added benefit to our organization. They truly understand what it takes to maintain a successful relationship with their customers, by providing quality workmanship, and respecting our commitment to excellence.
McCownGordon Construction— Senior Project Manager
Your crew performed admirably, even on days when the weather was marginal. The work was completed within the scheduled timeframe, and the quality of work is excellent. Norton & Schmidt Consulting Engineers and the Kansas City School District are extremely satisfied with the project.
Norton & SchmidtProject Manager